This shop has been compensated by Collective Bias, Inc. and its advertiser. All opinions are mine alone. #
RegisteringForBaby
#CollectiveBias
Preparing for my second baby has reminded me of all the wonderful things you need to have on-hand for life with a baby! Plus, since I've already had a baby once before, I have come to realize what really needs to be on that registry list. However, any mom will tell you that it comes down to preference. What worked for me might not for another, so I recommend asking all the new moms you know what they liked/didn't like!
Tips for creating the registry:
1. Register at Target! When you register at Target, you get easy exchanges/returns for a year after your due date PLUS you get a "welcome kit" that comes with free samples and coupons! I also loved that when I created a registry I got coupons to "complete my registry" so that even after the baby was born, I could go get things for even cheaper from the registry list.
2. Get a wide variety of priced items. Don't just register for 6 $100+ items, and don't only register for the random little crap like nipple cream. The size of your registry also depends on the size of your baby shower guest list, so talk to your family/friends to see if you've registered for enough things.
3. Don't waste your time registering for books, toys, and clothes. People will buy you those things anyway, so save your registry for real essentials. (Do you know how irritating it is to want to buy something USEFUL for the mom/baby, but the whole registry is bath toys and board books? Womp womp.)
4. See what your mom-friends have that you could borrow. Someone gave us a hand-me-down bassinet which was PERFECT, because the baby only uses it for a few months, so why buy a super fancy expensive enormous bed that will only get used for a short time?
(Click the items in the photo below to start shopping!)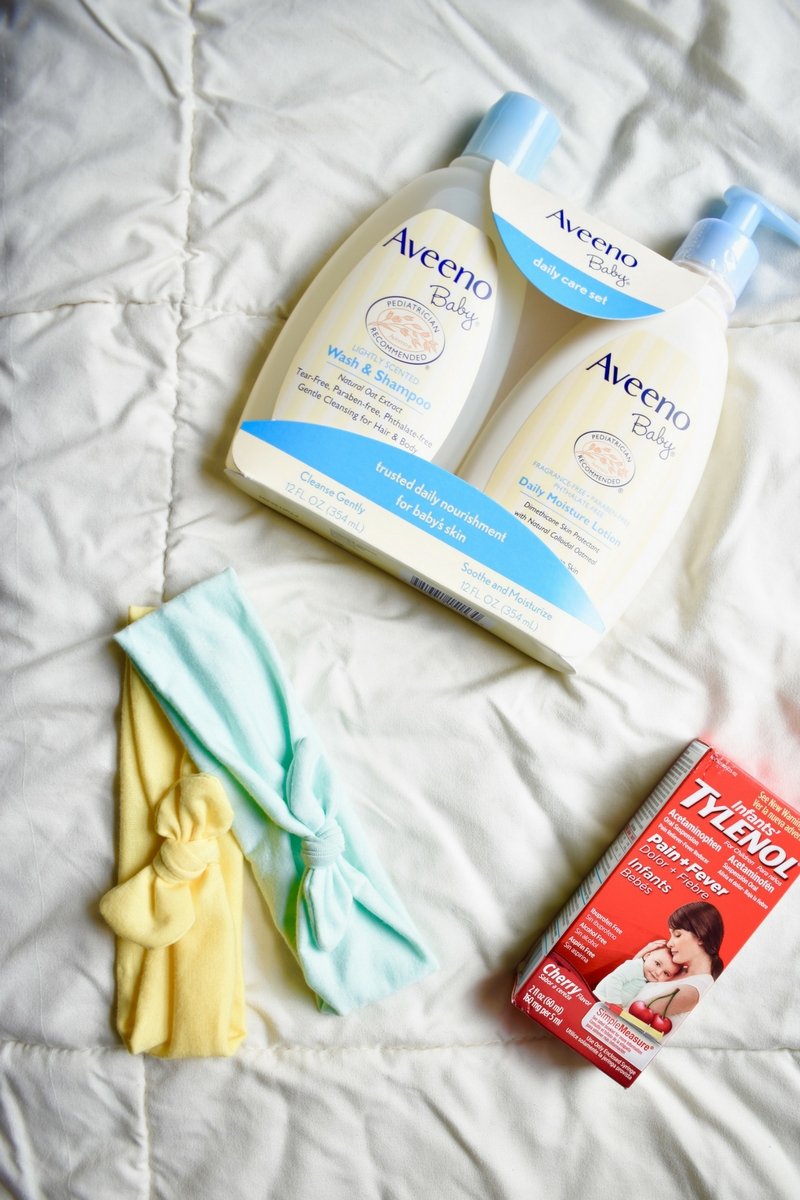 What to include:
Big items ($75+):
1. Convertible car seat (we have a 5-in-1 and it's been amazing)
2. Travel system (it's a rear-facing carseat + stroller, where the car seat clicks into the stroller! If you get this + the convertible car seat, then you'll have two car seats...good for having 2 cars OR for when you have that second baby

😉

)
3. Pack-n-play (get one with a bonus changing area & infant "seat")
4. Crib + mattress
5. Swing. Not a bouncy seat you have to push. A real life, plug-into-the-wall electric swing that will soothe your baby when you need a moment to yourself.
6. Sturdy baby-wearing option, like the Baby Bjorn or ErgoBaby. (You could also ask around and see if any friends have one you could borrow!)
7. Bassinet (but you'll only use this for a few months so maybe also try to borrow one from a friend?)
Smaller items (approx. $50 or less)
:
TYLENOL

®

-- don't wait til your infant is sick to do a midnight run to Target for medicine!
2. Aveeno

®

Baby Daily Moisture Regimen pack--easy to include in a gift, and the lotion works for mom & baby!
3. A wrap for baby-wearing.
4. Nursing+feeding supplies, if breastfeeding:
--Disposable nipple pads
--Milk storage bags
--Tiny, TINY bottle of nipple cream (seriously, you only need a tiny bit and the 5oz tube will go to waste)
--A few bottles
--Boppy pillow
5. Booster-seat style plastic high chair. Ours sits on a regular kitchen chair, and it's perfect. Also, the whole thing goes in the dishwasher so....major win.
6. Crib sheets (skip the expensive bedding set. Babies DON'T need fancy matching comforters.)
7. Baby bath tub
8. Baby monitor set (no need for video...I'd just do the regular listening ones!)
9. A box or two of newborn and size 1 diapers
10. Diaper bag
11. 1-2 packs of "receiving blankets" aka swaddling blankets aka giant burp cloths
12. Baby thermometer
13. 1 or 2 cute items that you can't resist--headbands for baby girls, the onesie with suspenders for a baby boy, etc.
All you expectant moms can sign up for a Target registry here! Here's a printable of the baby registry items, including helpful links to all my favorite items.